A Rare but Beautiful Ozark Mountain Ice-Storm
Click on photos to enlarge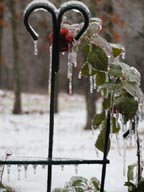 Frozen roses are just as pretty...











The Frozen Forest





















Animals

That little squirrel's cold! Getting home as fast as he can!

Out and About in the Village
Anyone golfing today?

Don't use white golf balls this a.m.!

Lake Chanute

Lake Aztec's back there somewhere...


We have USA land for sale in three beautiful Arkansas Ozark Mountain Lake Communities.
Cherokee Village Woodland Hills Hidden Valley
Check if we have any Foreclosures available